AMBERIAN DAWN – Take a Chance (A Metal Tribute to ABBA)
Label : Napalm Records
Release Date : 02.12.2022
Genre : Symphonic Metal
Rezension by Fenria Streetteam Berlin
Da sind sie also mal wieder, meine drei Problem Veröffentlichungen und die damit verbundene Beurteilung. Oder besser gesagt eines meiner drei Probleme. Der Name des Problems, Cover-Album. Irgendwie tue ich mich mit solchen Dingen wie Live, Best of… und eben Cover/Tribute immer etwas schwer. Ok bei Cover- Versionen kann man immer noch ein Auge zudrücken und darauf verweisen, das es verdammt noch mal viele gibt, die besser als das Original klingen und somit sehr oft, sogar in der Überzeugung, dass es tatsächlich so ist, als eben das Original gehandelt werden. Aber auch bei Cover-Versionen gibt es viel zu oft den berühmten Griff ins Klo. Aber kommen wir doch einfach zu dem, was hier seit Tagen vor mir liegt und was sich mit drei Vorabsingles angekündigt hat. Zuerst einmal sei hier erklärt, um wen es hier geht. Amberian Dawn, 2004 als Atheme One gegründet und 2006 dann umbenannt, stammt aus Finnland und hat sich dem Power/Symphonic Metal verschworen. Nach zahlreichen Umbesetzungen an beinah jedem Instrument, einschließlich dem Mikro, ist die Formation seit 2012 ziemlich stabil und liefert nun mit diesem Tribute Album nun mehr zehntes Werk ab. An dieser Stelle könnte man noch erwähnen dass es sich hierbei auch um das nun mehr fünfte Studioalbum unter dem Label Napalm Records handelt. Also ein Tribute Album. Und genau hier kommt das erstaunliche an diesem Werk, nicht nur muss ich zugeben, das wirklich jeder der hier enthaltenen Nummer seinen eigenen Charme entwickelt und somit großartig gemacht ist und klingt, nein es geht hier noch um so viel mehr. Hört euch doch einmal in euren Reihen um. Wer von den Herren und Damen im Lager der Liebhaber härterer Klänge würde freiwillig zugeben, dass er "Schlager" oder gar wie in diesem Fall "Pop-Songs" kennt? Ich wette, dass die meisten dies bestreiten werden. Ist man aber in der richtigen Rund, ist genug Hochprozentiges geflossen und der DJ legt eines dieser Lieder auf, es wird beinah jeder mit Grölen und Feiern. Was genau bei diesem Album passieren wird! Nun, der Name der Band die hier ihr Tribute erhält ist schon Programm und ich denke ohne Probleme sagen zu können das ABBA nicht nur in den Riegen der etwas älteren Hörer/Leser ein Begriff sein dürfte. Aber kommen wir zum eigentlichen dieses Berichtes. Die Finnen spinnen, könnte man sagen. Aber was die Band hier abliefert kann sich wirklich hören lassen. Die Pop Ikonen ABBA zu covern ist schon schwer, aus den großen Hits aber dann noch metalische Version zu basteln und selbige mit dem passenden Gesang dazu versehen, das ist dann schon beinah ein kleines Kunstwerk. Und genau dies ist Amberian Dawn mit ihrem Album, Take a Chance und den darauf enthaltenen elf Stücken tatsächlich gelungen. Herrlich, Songs wie Super Trouper, Gimme!Gimme!Gimme!, SOS oder auch Mama Mia in diesem Gewand ala 2022 klingen. Wer hier nicht mitfeiert ist selbst schuld. Ich für meinen Teil gebe zu sowohl die Originale zu kennen, als auch dieses Tribute Album zu mögen. Gut gemacht und Ziel erreicht. Volle Punktzahl und Kaufempfehlung. Und dies nicht nur für die Metalheads, nein auch für die Fans der Band ABBA und Popmusic Liebhaber, die mal ein Auge zudrücken und andere Musikrichtungen zulassen können!
So there they are again, my three problem releases and the associated assessment. Or rather one of my three problems. The name of the problem cover album. Somehow I always have a hard time with things like live, best of... and covers/tributes. Ok with cover versions you can always turn a blind eye and point out that there are damn many that sound better than the original and thus very often, even in the belief that it actually is like the original traded. But even with cover versions there is far too often the famous grab into the toilet. But let's just get to what's been lying in front of me for days and what has been announced with three pre-singles. First of all, let's explain who this is about. Amberian Dawn, formed in 2004 as Atheme One and then renamed in 2006, hails from Finland and is dedicated to power/symphonic metal conspired. After numerous line-up changes on almost every instrument, including the mic, the formation has been fairly stable since 2012 and now delivers their tenth work with this tribute album. At this point one could mention that this is also the fifth studio album under the Napalm Records label. So a tribute album. And this is exactly where the amazing thing about this work comes from, not only do I have to admit that each of the numbers contained here develops its own charm and is therefore made and sounds great, no, there is so much more at stake here. Take a look around your ranks. Which of the gentlemen and ladies in the camp of lovers of harder sounds would voluntarily admit that they know "Schlager" or even, as in this case, "pop songs"? I bet most will dispute this. But if you're in the right group, enough high-proof has flowed and the DJ puts on one of these songs, almost everyone is roaring and celebrating. What exactly will happen with this album! Well, the name of the band that receives their tribute here says it all and I think I can say without any problems that ABBA shouldn't only be known in the ranks of the somewhat older listeners/readers. But let's get to the point of this report. The Finns are crazy, you could say. But what the band delivers here can really be heard. It's difficult to cover the pop icons ABBA, but then to create a metal version from the big hits and add the right vocals to it, that's almost a small work of art. And that's exactly what Amberian Dawn has actually achieved with their album, Take a Chance and the eleven tracks it contains. Wonderful, songs like Super Trouper, Gimme!Gimme!Gimme!, SOS or even Mama Mia sound in this guise ala 2022. If you don't celebrate here, it's your own fault. For my part I admit to knowing the originals as well as liking this tribute album. Well done and goal achieved. Full marks and buy recommendation. And not just for the metalheads, no, also for the fans of the band ABBA and pop music lovers who can turn a blind eye and allow other styles of music!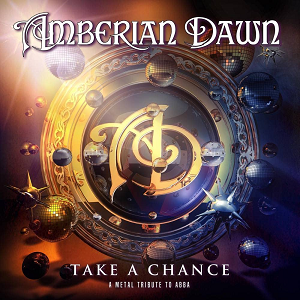 TRACKLIST :
1. Super Trouper
2. Gimme!Gimme!Gimme!
3. SOS
4. Head over Heels
5. The Day before you came
6. Angeleyes
7. That's me
8. Mama Mia
9. Under Attack
10. Like an Angel passing through my Room
11. Lay All your Love on me
Amberian Dawn is :
Toumas Seppälä – Keyboards
Emil Pohjalainen – Guitar
Capri – Vocals
Jukka Hoffren – Bass
Joonas Pykälä-aho – Drums
Amberian Dawn online:
https://www.facebook.com/amberiandawn
https://www.instagram.com/amberiandawn
https://www.twitter.com/amberiandawn
https://www.amberiandawn.com