THUNDERMOTHER – Black and Gold
Verfasst: Do 18. Aug 2022, 09:14
THUNDERMOTHER – Black and Gold
Label : AFM Records
Release Date : 19.08.2022
Genre : Hard Rock/Heavy Metal
Rezension by Fenria Streetteam Berlin
Die Band besteht bereits seit 2009. Seiner Zeit gründete Filippa Nässil, natürlich aus Schweden stammend, wie es sich für eine echte schwedische Rock Kapelle gehört die Band mit Namen Thundermother. Im März 2017 gab man bekannt, dass insgesamt gleich vier der fünf Bandmitglieder selbige verlassen hätten. Filippa stand vorerst allein da. Doch dieser Zustand sollte nicht lange anhalten und so spielte man bereits im Sommer 2017 neuformiert auf dem Wacken Open Air. Mit der Veröffentlichung des dritten Albums, Thundermother im Jahre 2018 begann der längst fällige Höhenflug der komplett aus Damen bestehenden Rock Band. Live präsentierte sich die Band in Bestform und gewann zahlreiche Fans dazu, bis Corona die Aktivitäten etwas bremste. Doch auch während der weltweiten Pandemie waren die Mädels nicht untätig, spielten da wo es möglich war live und veröffentlichten 2020 ein weiteres Album. Diesmal unter dem Label AFM Records. Die Erfolgskurve stand und steht auf steil nach oben.
Nun ist es soweit und Thundermother präsentieren 2022 ihren nächsten Hammer. Das Album Black and Gold, setzt noch einmal einen drauf. Jeder der zwölf Songs, könnte locker eigenständig als eine kleine Hitsingle funktionieren. Zusammen ergibt sich dadurch ein Album, welches stärker wohl kaum sein könnte. Hier jagt eine Rocknummer die andere. Die Stimmung auf dem Album könnte nicht besser sein. Treibende Riffs rocken sich durch die gesamte Spielzeit und lassen zu keinem Zeitpunkt Langeweile aufkommen. Hier steppt im wahrsten Sinne der Bär. Und was Guernica Mancini da erneut ins Mikrophon röhrt rundet das Ganze dann nahezu ab. Ein Album welches ganz und gar nach meinem und sicherlich auch nach dem Geschmack der Fans und Hörer ist und seien wird. Hier darf ohne große Überlegung sofort zugegriffen werden. Wer dann noch nicht genug von den Müttern des Donners hat, der darf sehr gern auf eines der zahlreichen noch in diesem Jahr stattfindenden Konzerte gehen und Black and Gold zusammen mit den vier Mädels Live feiern. Wir für unseren Teil sind mehr als begeistert und feiern zurzeit erst einmal das Album…
The band has existed since 2009. At that time, Filippa Nässil, originally from Sweden, of course, as befits a real Swedish rock band, founded the band called Thundermother. In March 2017 it was announced that four of the five band members had left the band. At first Filippa stood alone. But this state of affairs was not to last for long, and so the newly formed band played at Wacken Open Air in the summer of 2017. With the release of their third album, Thundermother, in 2018, the long overdue flight of the all-female rock band began. Live, the band presented itself in top form and gained numerous fans until Corona slowed down the activities a bit. But even during the global pandemic, the girls were not idle, playing live where possible and releasing another album in 2020. This time under the label AFM Records. The curve of success stood and stands steeply upwards.
Now the time has come and Thundermother will present their next hammer in 2022. The album Black and Gold takes it one step further. Each of the twelve songs could easily stand alone as a minor hit single. Together, this results in an album that could hardly be stronger. One rock number follows the other here. The mood on the album couldn't be better. Driving riffs rock through the entire season and never let boredom arise. This is where the bear tap-dance in the truest sense of the word. And what Guernica Mancini roars into the microphone again almost completes the whole thing. An album that is and will be completely to my taste and certainly also to the taste of the fans and listeners. This can be accessed immediately without much thought. If you still haven't had enough of the mothers of thunder, you are welcome to go to one of the numerous concerts that will take place this year and celebrate Black and Gold live with the four girls. For our part, we are more than enthusiastic and are currently celebrating the album...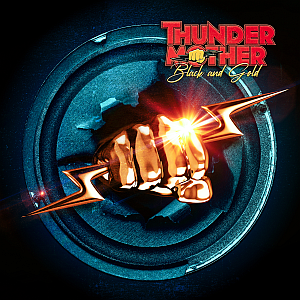 Tracklist
1. The Light in the Sky
2. Black and Gold
3. Raise your Hands
4. Hot Mess
5. Wasted
6. Watch out
7. I don't know you
8. All Looks no Hooks
9. Loud and Free
10. Try with Love
11. Stratosphere
12. Borrowed Time